From the Publisher
Honorary Editorial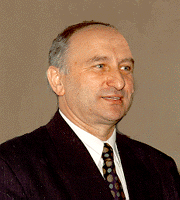 I am very pleased to announce that today Polish agricultural universities start editing on the Internet the Electronic Journal of Polish Agricultural Universities.
Signatories of the agreement by virtue of which the Journal has been founded, are representatives of majority of agricultural universities, namely: Agricultural University of Wroc³aw, Agricultural University of Cracow, Agricultural University of Lublin, Agricultural University of Poznań, Agricultural University of Szczecin, University of Technology and Agriculture of Bydgoszcz, and Higher School of Agriculture and Teacher Training in Siedlce.
The parties signing the foundation act believe that a new way of transmiting the information by electronic media will soon dominate and will contribute to more efficient flow of information between scientific centres at home and their counterpartners in the world. Our aim is to develop the best quality journal, meeting the requirements of modern science and recognized by the Central Committee for Scientific Degrees and Titles.
We are convinced that this modern form of a good quality journal, available to the readers all over the world, will satisfy their expectations and provide the best and the quickest possible opportunity to present their research work both in Polish and English, and share it with the others.
The journal shall publish articles in series, each of them representing a scientific discipline approved by the Central Committee for Scientific Degrees and Titles. The Editorial Board of each series will have its seat at the Publishers of the universities, incorporators of the journal. Technical Editorial Board will be situated at the Publishers of the Agricultural University of Wroc³aw. The journal is to be a forum for scientists and research workers of schools, entities and institutions focused on agriculture and related fields.
The representatives of agricultural schools, the founders of the Electronic Journal of Polish Agricultural Universities, would like to underline the contribution and support rendered to the project on the development of the Internet in our country by the State Commitee for Scientific Research (KBN). Long-range planning by the Committee will enable Polish scientific centres to communicate with their partners around the world.
We would like to express our hope that this on-line available journal will be a contribution made by Polish agricultural universities towards the rapid progress of science and immediate access to it.
Signatories of this act are convinced that the journal will meet the needs of the academic community and this new form of publishing will grow in popularity and approval.
The Foundation act executed and signed at Wroc³aw on December 18, 1997.
Wishing all the best to the readers and contributors
On behalf of the founders


Prof. Józef Szlachta, Vice-Rector
Agricultural University of Wroc³aw